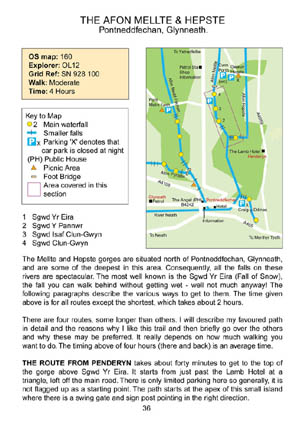 A sample page

An introduction to one of the most definitive books on the natural beauty of the South Brecons
Setting out on one of the most powerful motorbikes on the road, the Pan-European, a journey from the hustle of modern cities and motorways might seem a strange way to start a most beautiful journey into the Welsh hills and mountains, and in particular, to the natural beauty of the South Brecons. But David Wilkey has probably achieved what few have done before him, and that is to set out to describe for others this unique landscape and how to enjoy and experience it at its best.

So welcome to Waterfalls in the South Brecons!

The book illustrates many of the falls contained in an area known as 'Waterfall Country' in South Wales. Waterfalls are the most dramatic event in the tumbling course of the river and are by nature often found in deep ravines or gorges. To author, as an artist and photographer, size isn't everything. What matters is natural beauty; a high single drop isn't necessarily the most interesting, everything has to be taken into account including the surroundings.

The author has tried to locate and photograph as many of the falls as possible to show the beauty and diversity of this rugged area. In most cases, every known waterfall on a particular stretch of river is shown or noted.

Some of the areas have been well looked after by the Forestry Commission with convenient car parking near the most popular spots. This has made access to the bigger falls a great deal easier whereas, before certain rustic bridges were built, the average walker would have found it impossible.
The author has also included many waterfalls and tributaries off the beaten track for the more adventurous which are not mentioned in general tourist guides; there is usually a reason for this - in most cases, they are difficult or even inaccessible at present. Also, some parts of the areas covered in the book are private land or open access land.

Copies of the book are available for purchase from Artscene Publications by following these links:

To go to website
CLICK HERE
Price £7.99 (includes postage and packing)
Go straight to the shopping cart
CLICK HERE
If you would like to email David
CLICK HERE